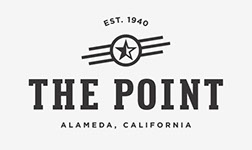 Site A Amendment Critical to Moving Project Forward
On Wednesday, July 5th, Alameda City Council will consider an amendment to the Alameda Point Site A plan, as unanimously recommended by the planning board last month.
By working together, Alameda Point Partners (APP) and the City have created a workable solution to this challenging cost environment that will maintain the integrity of the original development plan, while accelerating delivery of badly needed housing.
Here's what this amendment means for the future of Alameda Point:
Critical Housing Delivered Sooner: All 800 units of badly needed housing delivered more quickly in a larger first phase, including 25% inclusionary housing - with 70 units for AUSD teachers and employees - and another 25-30% affordable by design units.
New Ferry Terminal by 2020: A new ferry terminal at Seaplane Lagoon is fully funded by Alameda Point Partners, the Alameda County Transportation Commission (ACTC) and the Water Emergency Transportation Authority (WETA).
Critical Infrastructure Improvements Funded: $93M in infrastructure improvements already committed as the backbone needed to sustain and revitalize the former Naval Base.
Thousands of Construction Jobs: Construction of Site A will bring thousands of union jobs to the island.
Catalyst for Redevelopment of Former Naval Base: Site A will kickstart redevelopment of Alameda Point and is the only mechanism to support other planned projects, like the Main Street Neighborhood, supportive housing at the Alameda Point Collaborative, Site B, and the Adaptive Reuse area.
For more information, the agenda and staff report are available here (item 6-B).
Please join us on Wednesday to voice your support at the Council meeting and/or email your Council in advance:
WHEN: Wednesday, July 5, 2017 @ 7 p.m.
WHERE: Council Chambers, Third Floor
Alameda City Hall, 2263 Santa Clara Ave
PROJECT LEAD:
Joe Ernst
510-219-5376
COMMUNITY RELATIONS:
Becca Perata
415-515-9156
COPYRIGHT ©2015 ALAMEDA POINT PARTNERS. ALL RIGHTS RESERVED.